Precision Instruments for

Tough Environmental Conditions
Ocean and coastal water quality monitoring applications require instrumentation that will survive in harsh environments. YSI's analytical monitoring sensors are designed to meet stringent data accuracy requirements and have been proven during long term deployments. Features like wet mate connectors and titanium sensor housing result in higher data quality by eliminating many of the failure modes common in these challenging conditions.
The DB600 is an integrated, easy-to-assemble, plug-n-play buoy for remote monitoring and can support a range of sensors. The All-in-One (Ai1) package includes everything required to transmit sensor data directly to your computer or device, with industrial field reliability. Pair it with a YSI EXO sonde, an Aanderaa DCS, and HydroSphere for a world-class monitoring system!
Deploying a high-quality data buoy has never been easier, or more affordable.
The DB600 arrives fully integrated and can be deployed by a single person. With it's unique Ai1 telemetry system, high-efficiency solar-based power system, and field-ruggedized buoy, the data buoy, DB600, can be used in any critical application where an ongoing stream of data is paramount. Pair it with YSI's EXO sondes, Aanderaa's single-point current sensor, and HydroSphere data visualizaton for a world-class monitoring station.
The DB600 Package includes:
DB600 buoy
Stainless steel sensor deployment tube
Ai1 logging and communication system
Solar power system
Sensor cable
Navigation beacon
The DB600 was designed to support all models of YSI EXO sondes as well as the Aanderaa DCS.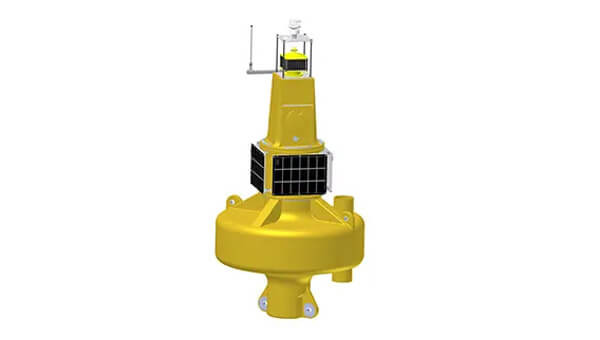 Deployed in over 40 countries, the DB1750 buoy brings together the benefits of the latest in materials, manufacturing processes and technology. Owners will have lower long-term maintenance expense with this rugged yet lightweight buoy, due to its exceptional station-keep and long life.
A few benefits of the DB1750 include
Additional Benefits
Rugged design – A float section, battery section, and navaid section form an abrasion-resistant, shock absorbing buoy that can survive knocks form debris and even boat collisions. The float section has a moulded in slip resistant surface, providing an added safety precaution for on station maintenance.
Safety – The float section has a moulded-in, slip-resistant surface that makes it safer to do maintenance on station.
Color-code your station – Bifurcation buoys of red or green; Cardinal buoys of yellow and black; Fairway or Safe Water buoys of red and white. All are possible with this customizable buoy.
Flexible Power – Configured for 12V or 24V nominal, the power system for the lantern and optional equipment is housed in the battery section, which also forms part of the tower for the lantern.
Navaid Section – Has provision for four 10 peak watt solar modules or up to three 20 peak and one ten peak watt solar modules. This section also includes an internal high gain passive reflector (10m²) and lantern guard (if needed). Access to battery section and all equipment is through a hinged, tamper resistant, watertight service hatch.
EXO2 Multiparameter Sonde
The EXO advanced water quality monitoring platform includes the versatile multiparameter EXO2 sonde for oceanographic, estuarine, or surface water applications.
Key Benefits
Highest Data Quality
Onboard monitoring systems verify sensor operation
Multiparameter Monitoring
7 universal ports for allow for any combination of smart sensors or the central wiper
Industry-leading Anti-fouling
Best-in-class wiper technology
Titanium Components
The toughest grade parts guarantee operation well into the future
Seamless Integration
EXO can plug-and-play into marine, estuarine, freshwater, and groundwater monitoring systems
Features
 Battery compartment & large memory for long-term, unattended deployments
All sensors are field-replaceable and hold their own calibration
Compatible with real-time data logging systems
Smart Sondes and Sensors
EXO is an extremely versatile instrument for unattended monitoring, allowing the user to automatically configure a sonde with different sensors for different applications in minutes.
Smart Sensor Options
• Conductivity/Temperature (wiped and non-wiped)
• Dissolved Oxygen
• fDOM
• ISEs (Ammonium, Chloride, and Nitrate)
• NitraLED (UV Nitrate)
• pH (guarded and unguarded)
• pH & ORP (guarded and unguarded)
• Rhodamine
• Total Algae (Chlorophyll + Phycocyanin and Phycoerythrin)
• Turbidity
Other Available Parameters
• Absolute Pressure
• Ammonia
• Depth
• DO% Local
• Guage Pressure
• nLF Conductivity
• PAR
• Resistivity
• Salinity
• Specific Conductivity
• Total Dissolved Solids
• Total Suspended Solids
• Water Density
Accuracy
EXO sondes and sensors are tested in a variety of rigorous field conditions as well as lab conditions to ensure accuracy and response times.
Monitor without Interruption
No matter which EXO sensors users select, other features of the smart sensor design make them rugged and durable:
• Wet-mateable connectors resist corrosion
• Isolated components prevent short circuits
• Welded housings and double o-rings prevent leaks
• High-impact plastic and titanium resists breaking
• Built-in anti-fouling systems protect data integrity
• Low power consumption extends underwater deployments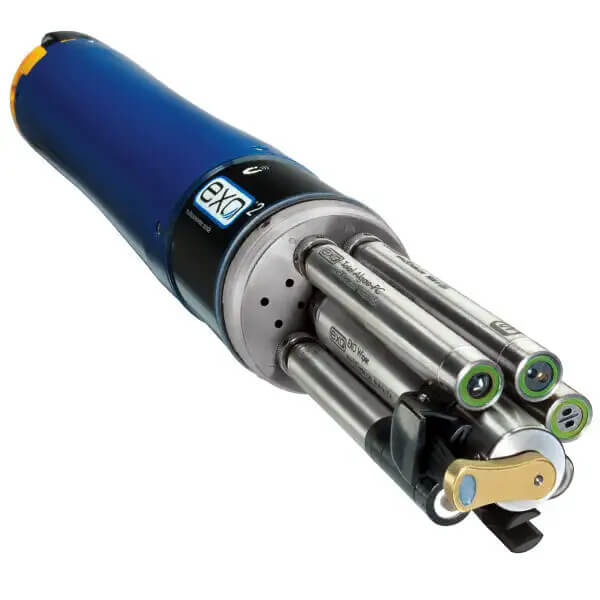 Download our brochure for more information.