Air quality solutions

for cities and industries
Around the world, air quality is playing an increasingly important role in people's quality of life. Bosch's motto "Invented for life" also involves an extensive commitment to improving air quality. In addition to Bosch's own goal of achieving CO2 neutrality in 2020, Bosch is making an even greater contribution to the sustainable, eco-friendly mobility of tomorrow with additional solutions for locally zero-emission driving from the Mobility Solutions business sector (BBM).
The Bosch air quality portfolio is focused on providing highly precise data to assess and improve air quality and identify the emission sources in a broad scale. Our working expertise focus from determining microscopic traffic emissions to precisely measuring and modelling the dispersion of air quality. We use digital technologies to link these different air quality expertise and offer a comprehensive view of the eco-system.
Air Quality Monitoring Box
Precise monitoring of air pollutants in real time
The air quality monitoring box delivers data accuracy values in accordance with the EU 2008/50/EC guidelines which have been certified by an independent institute. High-quality data is essential for deriving and implementing specific and robust measures to improve air quality. Configurable measuring parameters PM1, PM2.5, PM10, NO2, O3, CO, and SO2.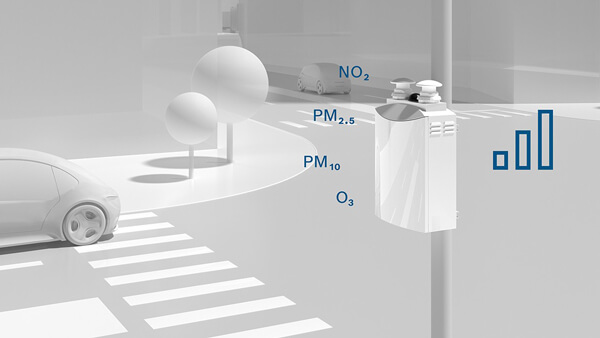 Air Quality Dispersion Modeling
Comprehensive capture and track
The cloud-based "air quality dispersion modeling" service permits tailored and sustainable measures at hotspots subject to increased emissions. This 3D simulation makes it possible to incorporate local emission sources, e.g. resulting from traffic, in a very fine-grained resolution model. Taking consideration of local urban development as well as current weather conditions, the dispersion calculation model can also be used for an entire urban area.

Technical Data
5 Meters: Resolution of the dispersion map
3D: Calculation method
5 Days: Forecast function
Environmentally Sensitive Traffic Management
Microscopic modelling of traffic-related emissions
Environmentally sensitive traffic management generates highly-accurate traffic emissions data in real time. This data evaluates the contribution made by moving traffic to the overall emissions situation. This contribution can be reduced through specific interventions in traffic management. For example, traffic flow can be facilitated by adjusting traffic light controls. Comprehensive implementation at high resolution is ensured by high-performance IT.

Technical Data
20 Meters: Resolution of a road segment with a certain share of emissions
NO2, PM, CO2: Modelled pollutants of the traffic under review
1 Hr: Standard computing frequency for the system as a whole
Download our brochure for more information.