We develop, produce and deliver both electromagnetic flow meters and open channel flow converter for the drinking and wastewater industry, as well as for industrial installations.
Flow measurement is used in many stages of the wastewater and drinking water processes at treatment plants, waterworks and industries around the world. We offer a wide range of flow meters and converters that provide accurate data for flow in pipes, plants and channels by calculating volume and controlling processes that help create the most efficient flow in the network.
We always offer professional advice in the use of all our flow measurement instruments. This way, you can ensure higher efficiency, better operational reliability and less energy consumption in water treatment. If you want to hear more about flow measurement or if you have questions about our other measuring instruments, you are more than welcome to contact us.
713 Open Channel Flow Measurement
The 713 open channel flow meter can be used for measuring and recording flow in all types of open channels and overflows as well as non-standard channels on treatment plants and overflow installations. Here, the flow is calculated based on hydrostatic or ultrasonic level measurement.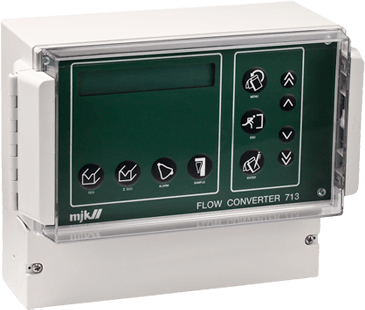 Magflux Electromagnetic Flow Measurement
MagFlux flowmeters are designed to measure flow rates in all types of conductive fluids, including drinking water, wastewater, sludge and process water. The flow meters are produced in fiberglass-reinforced polyester, which is why they can withstand virtually all environmental challenges they are exposed to.
Quick and Easy Installation
Our unique calibration code makes MagFlux flowmeters quick and easy to install.
Robust Design
Our instruments for flow measurement are made in robust designs with unique mounting options.
Meets Any Requirement
Our sensors and converters can be combined with many products to meet your exact requirements.
Data Security
We take data seriously. Our solutions always focus on securing your data for the best possible data security.
High Precision
Our flow meters guarantee high precision measurements, which helps you eliminate water loss.
User-friendly Systems
The instruments' control systems are intuitive and designed for the automation industry.
Level measurement is an important part of the process when working with tanks, basins or other forms of storage of liquids. In the vast majority of cases, mjk's extensive range of measuring instruments will meet any need.
At MJK, we focus on quality, user-friendliness and lifespan when we develop and produce instruments for level measurement. Our range of instruments covers hydrostatic, ultrasonic and mechanical measurement. Therefore, regardless of the purpose, you can always be sure to find the perfect measuring instrument from MJK.
When working with water, it is imperative to have stable and credible measurements. Our R&D department dedicatedly works to improve and adapt products and functionalities for special purposes. Our standard range matches the requirements that apply to the measurement of wastewater, wells, boreholes, nature conservation, surface water, building construction and many other areas.
As the mass changes with temperature, both our hydrostatic and ultrasonic level instruments automatically compensate for temperature. We provide credible measurements when it is cold, as well as when it is hot. Thus, with our measuring instruments, you ensure efficient and reliable water treatment.
If you want to hear more about level measurement or if you have questions about our other measuring instruments, you are always more than welcome to contact our qualified employees.
Hydrostatic Level Measurement
Expert™ Hydrostatic Level Transmitters are developed to produce exact level measurements, in various liquid applications. The level transmitters are monitoring the levels in boreholes, wastewater and sewer wells or even in explosion hazardous areas.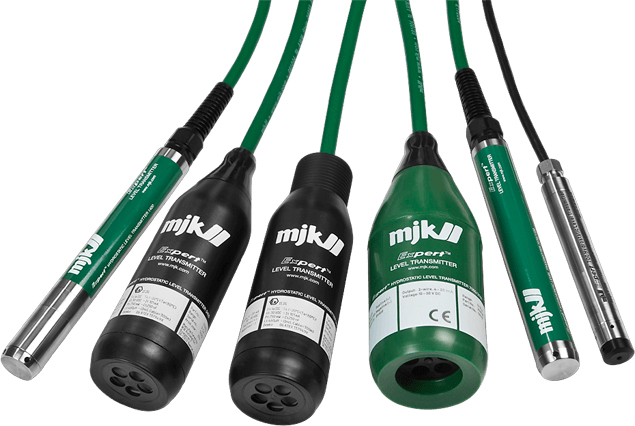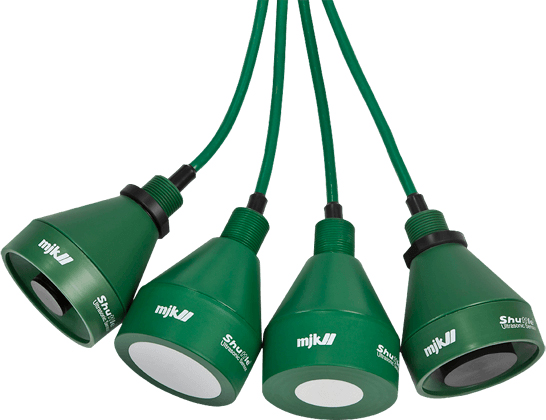 Ultrasonic measurement is excellent for media that are very greasy, corrosive or may otherwise damage a pressure transmitter. Ultrasound measurement is also ideal in case the medium you are measuring is clean and you therefore do not want physical contact when doing the level measurement.
Lifetime
Designed in materials specially selected for the many different environments that level meters are exposed to. This way, you are guaranteed long-life measuring instruments.
High Security
Expert™ 1400 and 3400 are UL-ATEX approved for usage in hazardous areas. This offers you high-level safety no matter where in the world the measurements are performed.
Stability and Precision
With our level meters, you get stable, accurate measurements for years. Whether it is drinking water, wastewater, aquaculture or industrial installations.
Intelligent Transmitter
Shuttle identifies the physical design of a well, so you can avoid false echoes from e.g. a ladder. Ideal for measurements in sewage wells, sewer wells and drinking water tanks or reservoirs.
Programmable Instruments
With programmable measuring instruments, you can change the area in which the unit works, which gives a higher precision as well as a much greater flexibility.
Easy Integration
With 4-20 mA, or alternatively ModBus output, you can integrate measurements with the vast majority of standard applications.
Download our brochure for more information.